Thursday, November 4, 2021, Virtual Celebration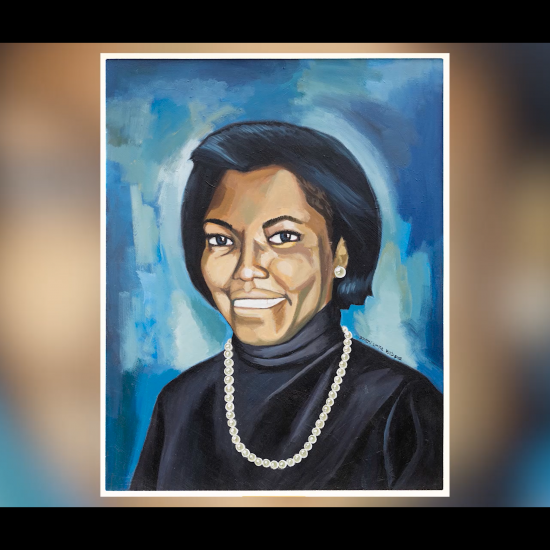 The Staff Advisory Council would like to cordially invite you to join us in a virtual celebration to honor the 2021 Janice Watkins Award Winners for Distinguished Civil Service
Please Join Us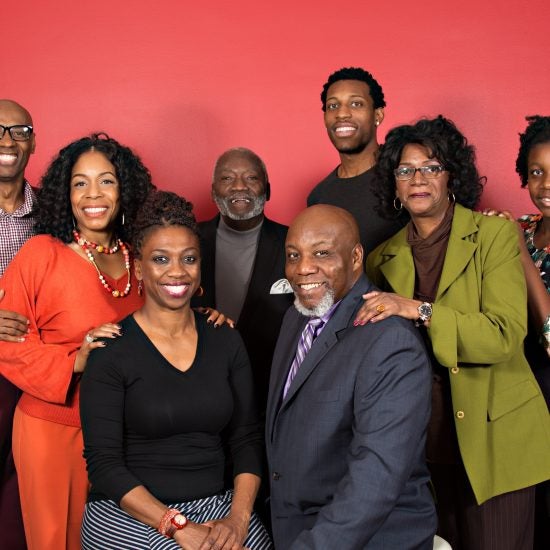 Remarks about the UIC Janice Watkins Award for Distinguished Civil Service from the Watkins Family. Who was Janice? Why is her legacy important?
Viola Watkins
Andria Watkins
Sharon Chase
The first distinguished civil service award was given to 3 UIC employees in 1979 and continues through today. This year we honor the 2021 Award Recipients
Please Join Us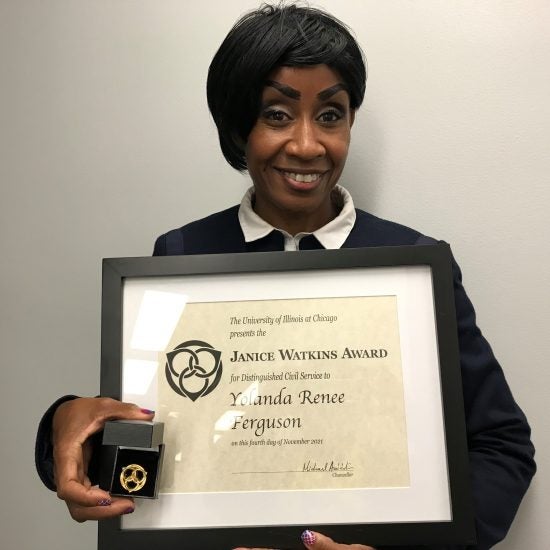 UIC Janice Watkins Award Winner Yolanda Ferguson Heading link
Remarks about the 2021 UIC Janice Watkins Award for Distinguished Civil Service Award Winner Yolanda Ferguson, Library Clerk, University Library
Please Join Us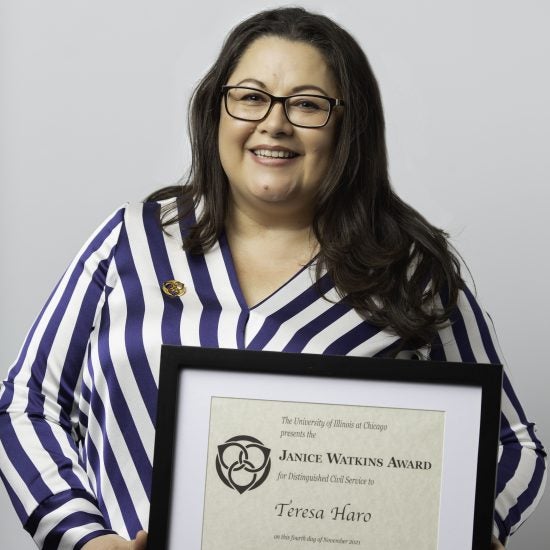 Remarks about the 2021 UIC Janice Watkins Award for Distinguished Civil Service Award Winner Teresa Haro, Regional Assistant Director, MATEC, Midwest AIDS Training and Education Center
Please Join Us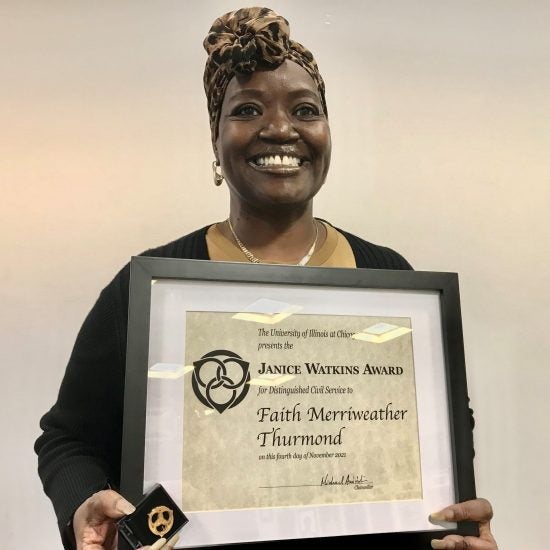 Remarks about the 2021 UIC Janice Watkins Award for Distinguished Civil Service Award Winner Faith M. Thurmond, Senior Grants Administrator, College of Applied Health Sciences Administration
Please Join Us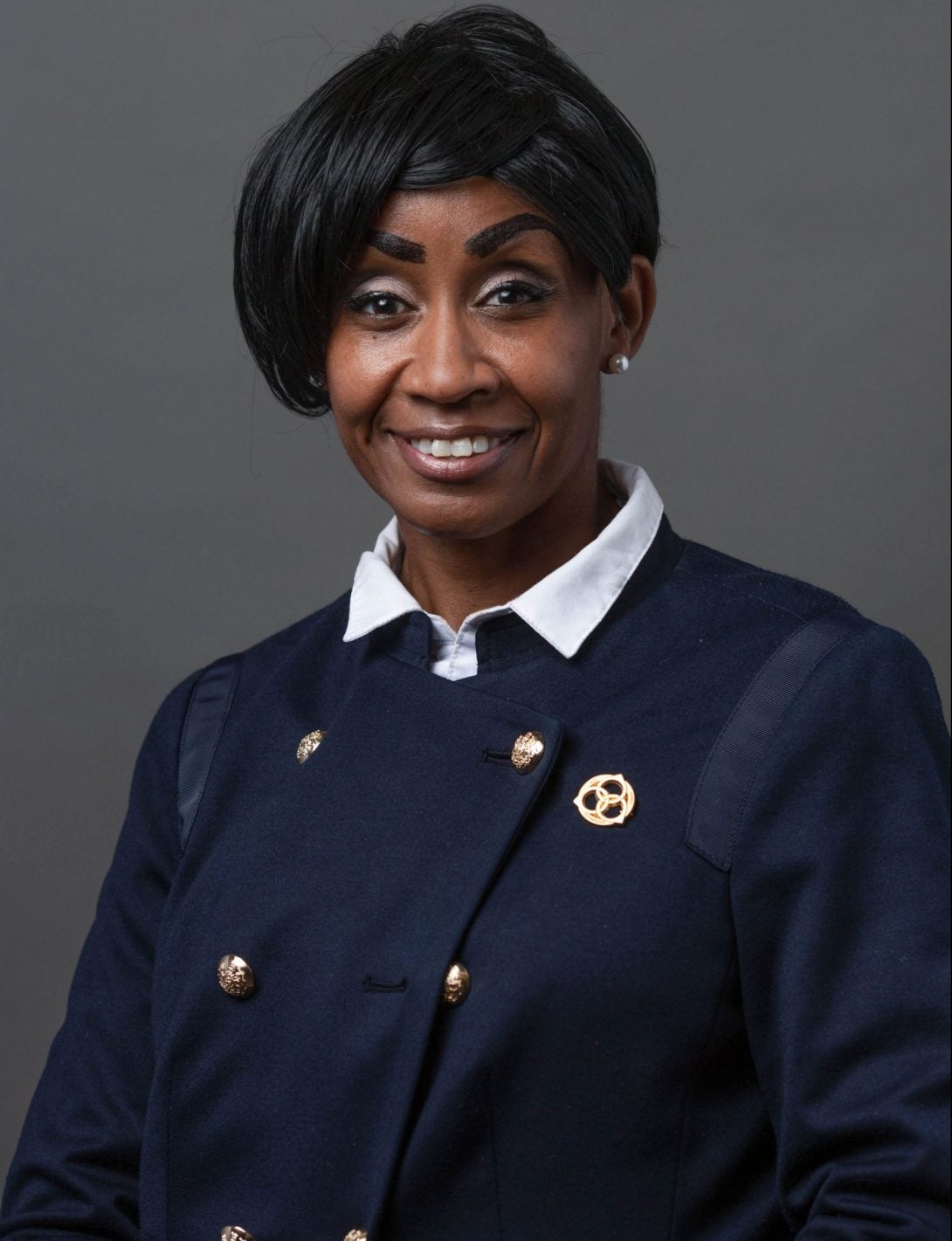 Position: Library Clerk
Department: University Library
For 22-1/2 years, Yolanda has been part of the Daley Library's Access
Services Department (formerly known as the Circulation Department), the unit that
operates in the Library every single minute the building is open. And her warm and
cheerful welcome has been a high point of the day for many students and faculty.
Yolanda's warmth and generosity extend to activities sponsored by her church, the City of Praise Church of Chicago. Yolanda volunteers for events like The Sound of Spaulding that provides entertainment as well as free food, clothing and home goods and the Tent Crusade that focuses on spiritual healing specifically for the homeless and those struggling with addiction. She is passionate about participating in evangelism training, a four-day course to teach how to minister to people where they are—not to beat them over the head with religion, but to help them find a path to discovering themselves, establishing themselves and leading productive lives. Every other Saturday, Yolanda goes to a section of the city and prepares meals to feed people in need.
Yolanda is one of the Library employees who interacts with almost every person who enters the building – either at the entry door, at the circulation desk, or in the bookstacks. The UIC community would probably recognize Yolanda just by sight,
but they know who she is because she speaks a friendly word to everyone. The "regulars" – students, faculty and staff – look forward to receiving a kind hello and how-are-you during every visit.

Associate University Librarian for Administrative Services and Associate Dean

|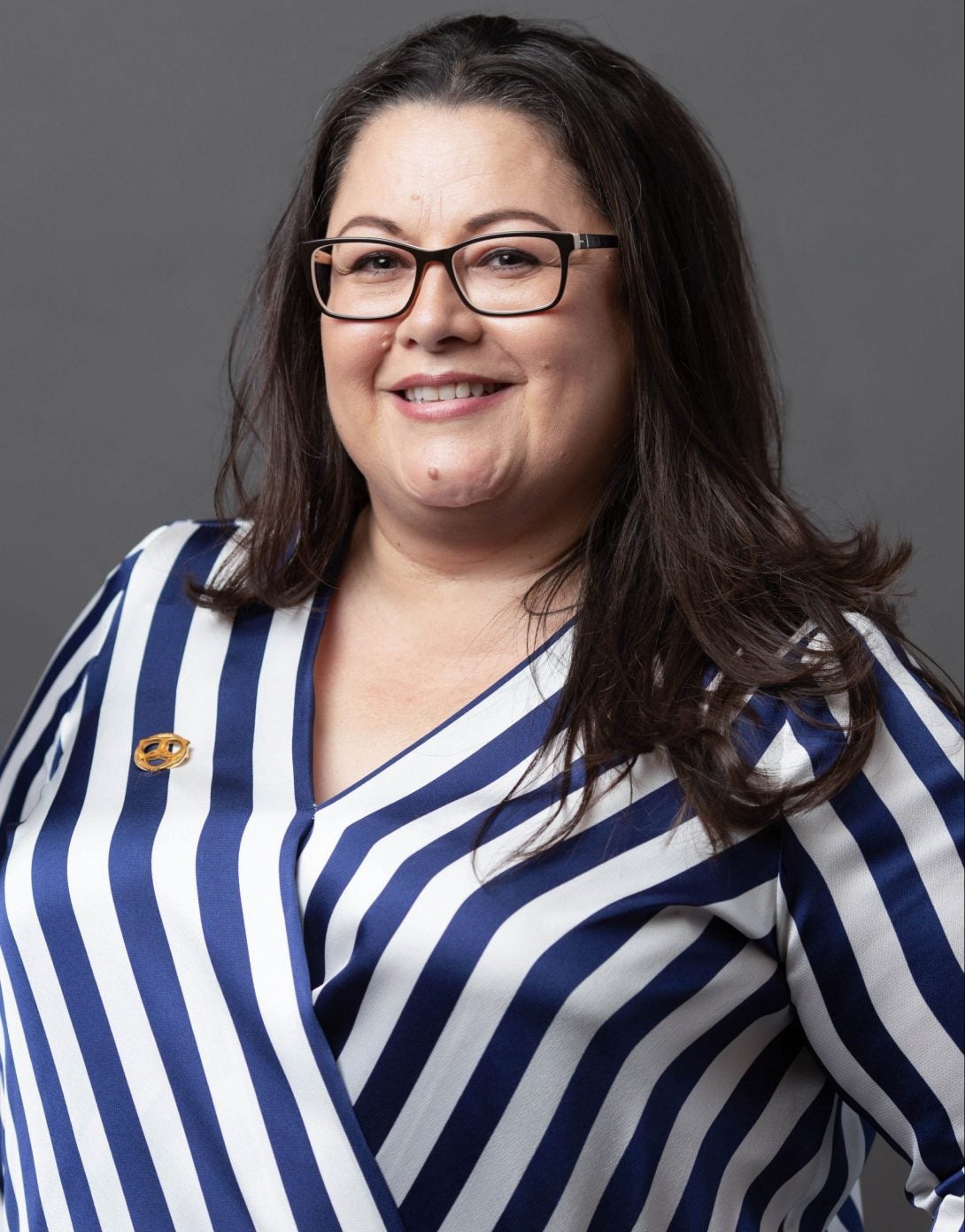 Position: Regional Assistant Director
Department: MATEC, Midwest AIDS Training and Education Center
Ms. Haro is very effective in communications and representing the Center and the University in her work with MATEC partners. She brings strong effective listening and service abilities, and maintains strong relationships with a wide variety of staff and institutions. She is an extremely positive person, and her genuine interest in people complements her specific assignments leading to harmonious team functioning. In this regard she goes beyond expectations, whether working with staff, partners or community groups.
Teresa has held several positions at MATEC.  In all of them, she has shown her commitment and her professionalism.  Through all her various roles, Teresa has brought her positive attitude and her organizational skills. This has made the organization's exponential growth possible. As she has done what is necessary to fulfill her commitments at work, she has also given time and energy as a volunteer in several positions in her children's school. All this has required many more hours than a "full time" position is generally expected to take. As with all things, she has done this work and given this time with a helpful, friendly attitude.
Before COVID, our Center used to hold numerous in-person educational programs for health care professionals. To accommodate the busy schedules of clinicians, many of these programs needed to be scheduled at 7:30 AM or after 6 PM. Countless times, I have seen Teresa willingly volunteer at the registration tables, and/or to collect evaluation forms at the end of the programs. Moreover, I have seen her go out of her
way to take other staff members back home after the closing of the evening programs out of a concern for getting them home safely and in a timely way.

Executive Director, Midwest AIDS Training + Education Center Clinical Assistant Professor

|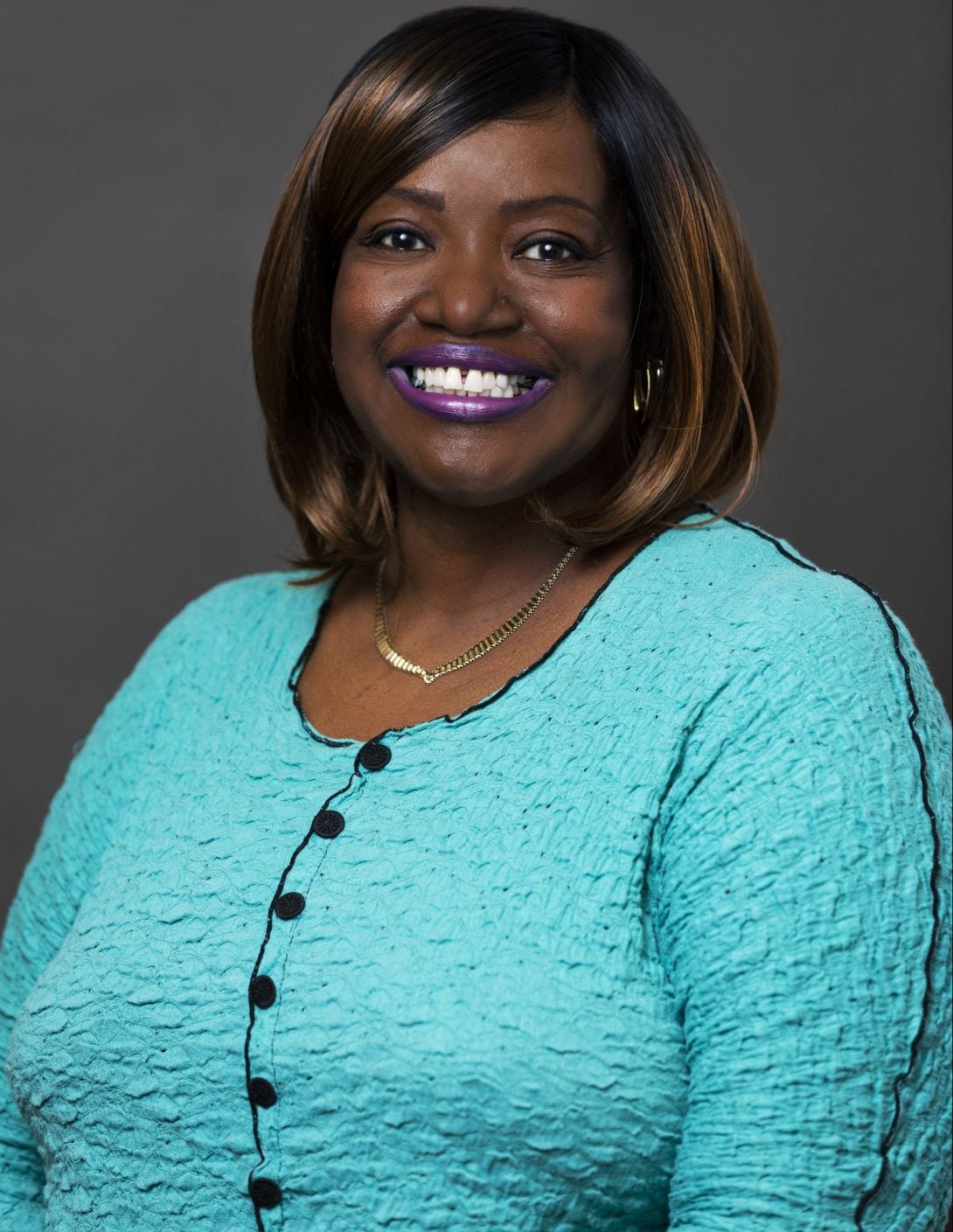 Position: Senior Grants Administrator
Department: College of Applied Health Sciences Administration
Faith has been a UIC employee since 1994 and has held positions in research administration in the Departments of Psychology, Pathology, Psychiatry, and Cardiology before joining the College of Applied Health Sciences where she is currently a Senior Grants Administrator in the AHS Office of Research. She is the consummate professional who is not satisfied with anything less than excellence, works unceasingly to serve our faculty, and makes an enormously positive contribution to the culture at UIC.
Faith is knowledgeable about every aspect of her job. In addition to her formal training as a CPA and CRA (Certified Research Administrator), she has a long-term commitment to maintaining and improving her expertise. Since 2006, she has participated in more than 40 business-related workshops organized by the Office of Business and Financial Services. She is active in the major US professional organization for research administrators, National Council of Research Administrators (NCURA). She has been a member since 2001 and was
certified as a Certified Research Administrator (CRA) in 2009. In recent years, she has taken a leadership role in the organization by Co-chairing the Traveling Faculty Lectures Committee and serving on other committees.
Beyond our relationship as faculty and business admin, Faith and I have had many conversations especially about being a woman in the workforce. I always feel empowered and invigorated when talking to her. I have benefitted from Faith's belief in humanity, listening and learning from her personal struggles and achievements.

Associate Professor, Department of Physical Therapy, UIC

|